Cookie Exchange Know-How
By Lisa Capitelli Staff Writer ––––––––––
December 2007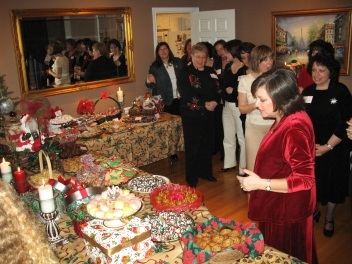 Robin Olson, the go-to person for holiday cookie exchanges, has published "The How to Host a Cookie Exchange Handbook," which includes steps to put together the perfect cookie exchange party.
Olson, who lives in Gaithersburg, Md., and grew up coming to Ocean City, where she still spends summers, started writing the handbook about eight years ago, but never had a chance to finish it, until now.
With two million hits on her Web site a year, averaging 6,000 visitors a day, and after answering thousands of e-mails from people with cookie exchange questions, Olson has put everything into a 35-page condensed handbook for those who want to host a cookie exchange party.
"I didn't invent cookie exchange parties, but I became the biggest promoter of it … I wanted to do a handbook people can make lists in because it's one of the hardest parties to give. There are a lot of details that go into planning and setup and the handbook will help them keep organized," Olson said during a phone interview.
"There's a lot of stuff to keep track of. It's how I keep myself organized. The handbook gives people everything they need to know."
Olson has been hosting sugary socials for nearly 20 years and even with her busy schedule — she is traveling all over the country as the national spokesperson for Reynolds Parchment Paper —she had her most recent one last Sunday.
She started the holiday parties after several years of baking dozens and dozens of batches of cookies for a few days straight with her mother-in-law and family.
Olson said her mother-in-law invited her to take part in their family holiday baking tradition at which family members would pack into the kitchen in assembly-line style and bake thousands of cookies to give as gifts to family and friends.
"My mother-in-law was a great baker and she taught me how to bake," she said. "We would bake thousands of cookies in a short period of time."
But Olson was looking for an easier way to come up with a variety of holiday cookies. She said while she was looking for cookie recipes on the Internet, she discovered cookie exchange parties. Olson co-hosted her first event in 1989.
Her parties are for women only and no children are allowed.
The cookie exchange she hosted in 2000 was filmed by the Food Network and aired many times.
"When I hosted my first party, I had young kids and it was mommy's break away. My parties are a kid-free zone," Olson said. "It's a chance for the girls to get together, eat hors d'oeuvres, drink wine and relax from the hustle and bustle of the holiday season ... Plus, you only have to bake one type of cookie, but you go home with like 15 different varieties."
They don't eat the cookies at the exchange party. After sampling some snacks, Olson rings a bell and everyone surrounds the table where guests laid out their six dozen cookies when they arrived. Each person introduces herself and has the opportunity to talk about her recipe.
After introductions, the women go around the table clockwise, taking a few cookies from each batch. Olson said they usually rotate three times before all the cookies are gone. Each guest ends up leaving with approximately the same amount of cookies she came with. By the end of the party, they have a wide assortment instead of just one kind.
For more information, or to purchase Olson's "The How to Host a Cookie Exchange Handbook" for $7.99, visit www.cookie-exchange.com.